Local Honey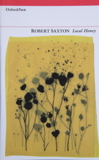 Local Honey
Published by Carcanet/OxfordPoets 2007

About the book

Love, mind, madness, loss – seen through many different characters in a kaleidoscope of rhyme and wit

Local Honey is a highly miscellaneous collection. Beginning in the remote past, with early stirrings of logical thought in a Palaeolithic cave, the focus ranges through different times, places and viewpoints before zooming close in the last poem to personal loss (the book is dedicated in memory of the poet's mother). En route we visit Greece, Italy, Morocco, Iceland, Dublin, London, the Scilly Isles, Suffolk, as well as nameless settings both pastoral and urban. The book is animated by characters -- including shepherds, beekeepers, a Sufi flautist, a reprobate fireman, a sun-saluting scoutmaster, a beer-guzzling spectator at Royal Ascot, a passionate devotee of ortolan buntings, and an admiral who composes music for the piano at sea.

There are four separate sections, each very loosely clustered around a theme – mind, love, nonsense, and the moon. 'A Starfish on the Lawn' delves into philosophy, consciousness and some of the forces ranged (for good or bad) against reason. 'The Impossible Goodbye' concentrates on courtship, engagement, honeymoons, disappointments and fresh beginnings. 'Worpington Hall' includes both jaunty spells and thoughtful abstractions, but culminates with plain-speaking wisdom in a nursing home, urging visitors to be playful. Lastly, 'Moon Harvest' transports us to various haunted scenarios, with a poignant conclusion in an Elysian orchard of memory.

Formally there is great variety. There are sonnets and sestinas – including a disguised sestina, in which the key words fall mid-line. One poem uses the stanzaic form and line endings of John Donne's 'Go and Catch a Falling Star'. Some poems are inspired by the blues, others by jaunty ballad rhythms. In all four sections are pieces that mix conventional and consonantal rhyme within a triplet form, developing a technique initiated in Manganese.

This book is available from Carcanet Press and Abe Books.

Contents

* indicates poems that are published below (after the Contents), all copyright Robert Saxton 2007

A Starfish on the Lawn
Half-lives
Black Holes
Bishop's Rock
Paradise Lost
Voyaging
The Fair Maid of Kent
Why I Never Write on My Hand*
Groundhuggers
The Song of Situations
The Flute Player
Tanging the Swarm
Local Honey*
On Lüneberg Heath
Calluna, Calluna
The Impossible Goodbye
Alone with Angie's Macaw
Vertigo
The Blues and the Abstract Truth
Cloud Nine*
November Wedding*
Spring Motor Tour
Bialowieza Honeymoon
Strangers on a Train
Clementine*
Bird Song
Magpie Minstrel Valentine
The New Life
Jason and the Argonauts
Worpington Hall
Two Spells
Breakfast Spell
Supper Spell
Lost Manuscripts of Dublin
A Beer Hat at Ascot
Scouting for Lovers
The Passion
The Quilting Bee
The Queen's Reader
Fireman's Lift
His Piano The Sea
Toy Story
Devil's Judge and Jury
The Travelling Naturalist
The Ox Truck Prospectus
Worpington Hall

Moon Harvest
Earth Life
Vesuvius
Prague
Lovers of Lanes*
Camping on the Moon*
Iceland
Liberty Hall
Warren Lodges
Double Trouble
The Firebird

.........................
LOCAL HONEY


On Lüneberg Heath

To be a bee churl with no money,
only taxable bees,
isn't the worst fate
imaginable
on Lüneberg Heath.
You could pay the tax with honey,

take the bees to the heather,
milk the late honey flows,
set the skeps on straw
and push straw gently
up against the combs
with the onset of colder weather.


Calluna, Calluna

The summers are silent and the winters long.
It takes a lifetime wishing on the wing
to separate the heather from the ling.

Only a native in a native song
can separate the heather from the ling --
so let's unpack our saddlebags and sing,

jostle fresh air in a languid lung,
let a few late stray bees accompany our song,
and separate the heather from the ling.
CLOUD NINE

In a folly too close to the house,
a walkover like a turf maze
unlikely to be lost in haze,
I hang around the Grecian frieze
balloon garlands antique air sways,
trembling like an antique phrase.

This evening, my pipistrelle,
the Tempietto on the grassy knoll,
secret objective of your stroll,
flourishes a proud singleton,
its finial, a Grecian urn,
to mark the point of no return.

Balloon bouquets in sanctum's heat,
each with acanthus counterpart,
welcome of my expectant heart,
release the ruby from its ore,
decking a party in its lair
with double balls and sheaths of air.

'A motto ennobles the resolute.'
Liking my destiny ornate,
I'll carve a volute if she's late,
let others mop or map their stains,
inflate their fears, lullaby bones,
weigh bubbles on a scale of stones.

I'll carve a volute if she's late,
bent like some patient anchorite
whose eyebrows knit by candlelight,
a white slave in a tyrant's mine
conjuring from the coal, at noon,
trusting, our glint of honeymoon.

Sixty balloons hold their surprise
like breath I'm saving to propose,
a poem that endstops miles of prose,
an antic wood, acanthus-leaved,
the folly not too far removed
from the ballroom where she was loved.
NOVEMBER WEDDING


Confetti, we presume, is banned:
there's no space for a brush
between the rows of grand
tombs in their commuters' crush,
and a garden vac might swallow
up a ghost, or its hellish din
evict one from its sleepy hollow,
torn from more soundly sleeping kin –

or has the mischief in each guest
been exorcised by the snow shower
with which the heavens have blessed
your bride in her most public hour,
muting first with lacy drapes
the colours of things the snow falls on
but leaves as shapes,
for softening later, guests all gone?


CLEMENTINE
Sands of the desert crowned you,
slaking their thirst in your own way,
drifting to beauty's laws.

In an orange-grove I found you,
lantern of shortening day,
calling through palace doors,

ajar, my love wrapped around you,
so easily pulled away,
like a dress, but always yours.


WHY I NEVER WRITE ON MY HAND

I can't write in the books I read,
annotating like some needy auto-didact.
I just can't.
Nor can I write on my hand –
a phone number, a recipe, a bon mot.
Better to take in information thoroughly,
deep inside oneself,
instead of leaving it floating on the surface
like quayside litter.

You've made a cabinet of your head.
You won't quench your thirst because your
cup's cracked.
You're a saint
in your own suburb of sand.
Why shut yourself away from the flow
of the mind's making? – it's always messy
at the edge of the self.
There's beauty, sometimes, in an ailing trace.
Catch it, make it better.

Then let common sense be the cure.
We share a book with its conjuring mind,
the magus on stage
whose absorption warrants our silence.
Not so different is a stranger's right
not to have to wonder about
hieroglyphics,
a public skin with a private blemish,
a thought where a thought shouldn't be.

You've swallowed the dazzling lure
and the barbed hook behind.
Keeping the page
as it came off the press is a violence
against nature, a fist held tight
around its dust, without
the endearing fix,
nor any mark of age, memory or wish –
a lie in its purity.

Manners is no lie – wild ink impedes
the quiet consensual flow.

My number's in the book nobody reads.
Write yours, if you will, below:


LOVERS OF LANES

That shepherd, sitting cross-legged on La Rocca degli Angeli,
is a gap-year student whose parents are filthy rich.
His sheep are far below, safe on their aprons of hillside pasture,
nibbling.
He is at ease in the smock and sandals of a peasant.
He is deep in a book, The Permanent Instruction of the Alta Vendita:
A Masonic Blueprint for the Subversion of the Catholic Church.
From time to time he leans into a thought, lifting his eyes
towards the seven city hills, folded by lovers of lanes –
relief from the page this moonlight makes so difficult.

But who are these lovers of lanes, you might be wondering,
and what have they to do with students, sheep and
the coiled serpent of enlightenment at the heart of the
Vatican?
They are the secret custodians of beauty,
camping among fireflies, brewing up at sundown,
sleeping in a torrent of dew.
They raise one eyebrow at a stranger's smile.
Their farms have marble inlays and their crumbling villas pigsties.
They are soulful, sensible, without envy and mostly without guile.


CAMPING ON THE MOON
It's bedtime, and I'm in disgrace
with Micro Man and Pudding Face.
I've no Mohicans in my sights –
I've forfeited my story rights.
No jellyfish kiss has plopped my cheek,
making the friendly floorboard creak.
The nightlight's off, the landing's dark.
Outside I hear the werewolves bark.
I'm a castaway in a fool's lagoon.
I'm camping on the moon.

A rain-soaked pillow slaps my face –
piss-awful weather, even for space.
Disaster and Bollocks – Gemini –
swing in their orbit, safe and dry.
The stars are needles, fierce and cold.
I'm a slave at market, soiled, unsold.
Next door the Joneses rattle their bed,
moaning and swearing like the living dead.
I'm wide awake in a cruel cartoon.
I'm camping on the moon.

Downstairs I hear the Bitchlings start,
the clan the alien tore apart.
I'm a scar, an itch, a boil, a leak.
I cost a hundred pounds a week.
A mastodon of giant girth,
I've waddled here to threaten Earth.
I'm swimming in the bed I've wet.
I'm an animal – so call the vet,
I'm choking to death on a giant spoon.
I'm camping on the moon.