Home
Welcome to Robert Saxton's poetry website
Robert Saxton is the author of seven books of poetry, including his latest work (published March 2019), Flying School.
His other poetry publications are:
The Promise Clinic: First poetry book from Enitharmon.
Manganese: From Carcanet/OxfordPoets – includes first poems in the 'triplet' form, juxtaposing conventional and consonantal rhyme; and the prize-winning 'The Nightingale Broadcasts'.
Local Honey: From Carcanet/OxfordPoets
Hesiod's Calendar: From Carcanet/OxfordPoets – a lively, colloquial version of Hesiod's Theogony and Works & Days in 80 sonnets: Hesiod was arguably the first fully rounded personality in Western literature, and deserves to be better known.
The China Shop Pictures: First Shearsman title; includes a long comic demolition of Shakespeare's The Tempest.
Six-way Mirror: A 30,000-word prose poem consisting of hundreds of vividly realised vignettes, loosely based on the I Ching: you can toss coins and use a table in the book to select hexagrams that determine your order of reading – or you can just read in the normal way.
To find out more about these works and to purchase, please visit Robert Saxton's Poetry Collections page.
Please use the contact page if you would like to get in touch with me.
Flying School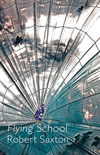 Flying School Robert Saxton's latest book.
AVAILABLE TO BUY NOW FROM www.shearsman.com £9.95

Gentle Plea:
"Please do not understand me too quickly." André Gide